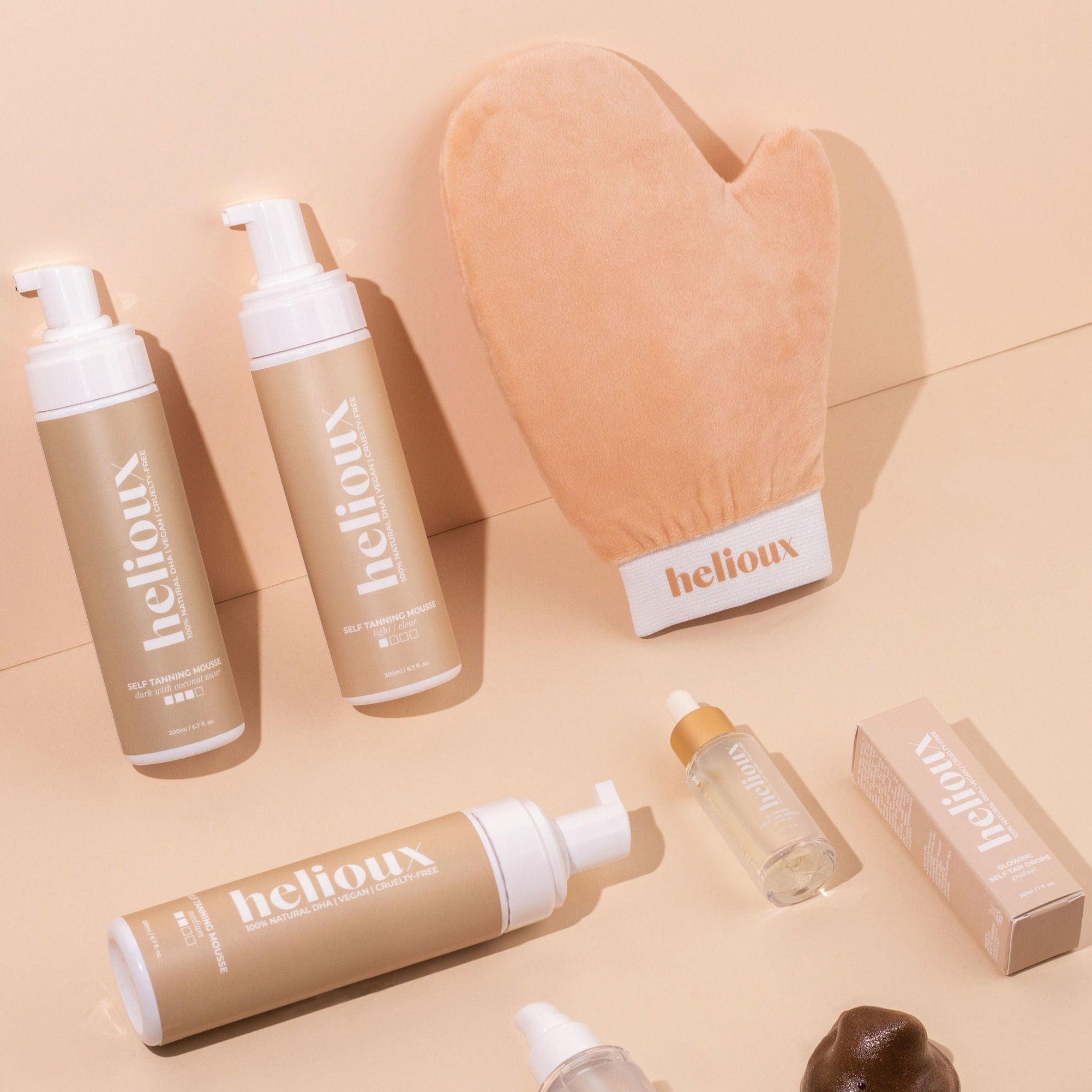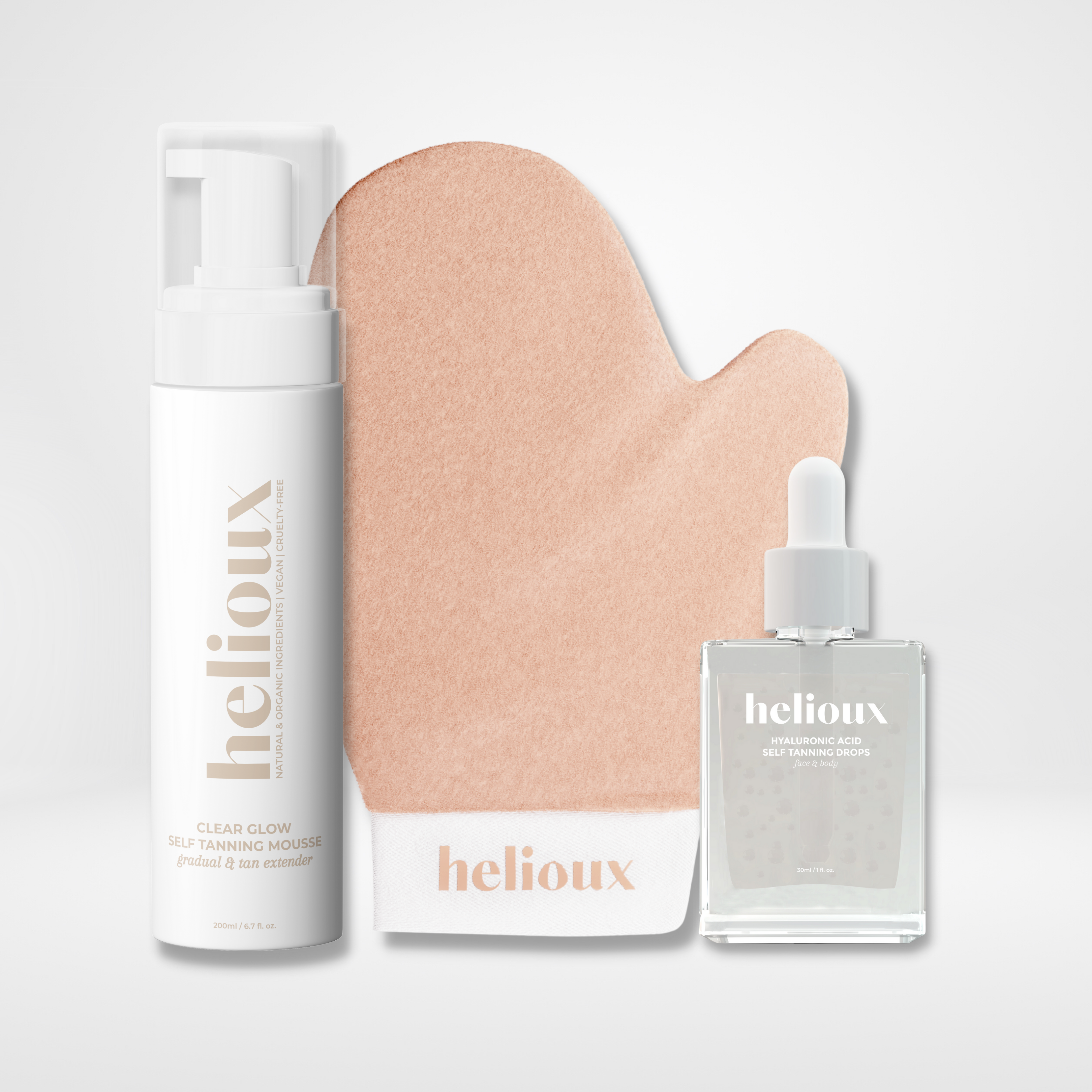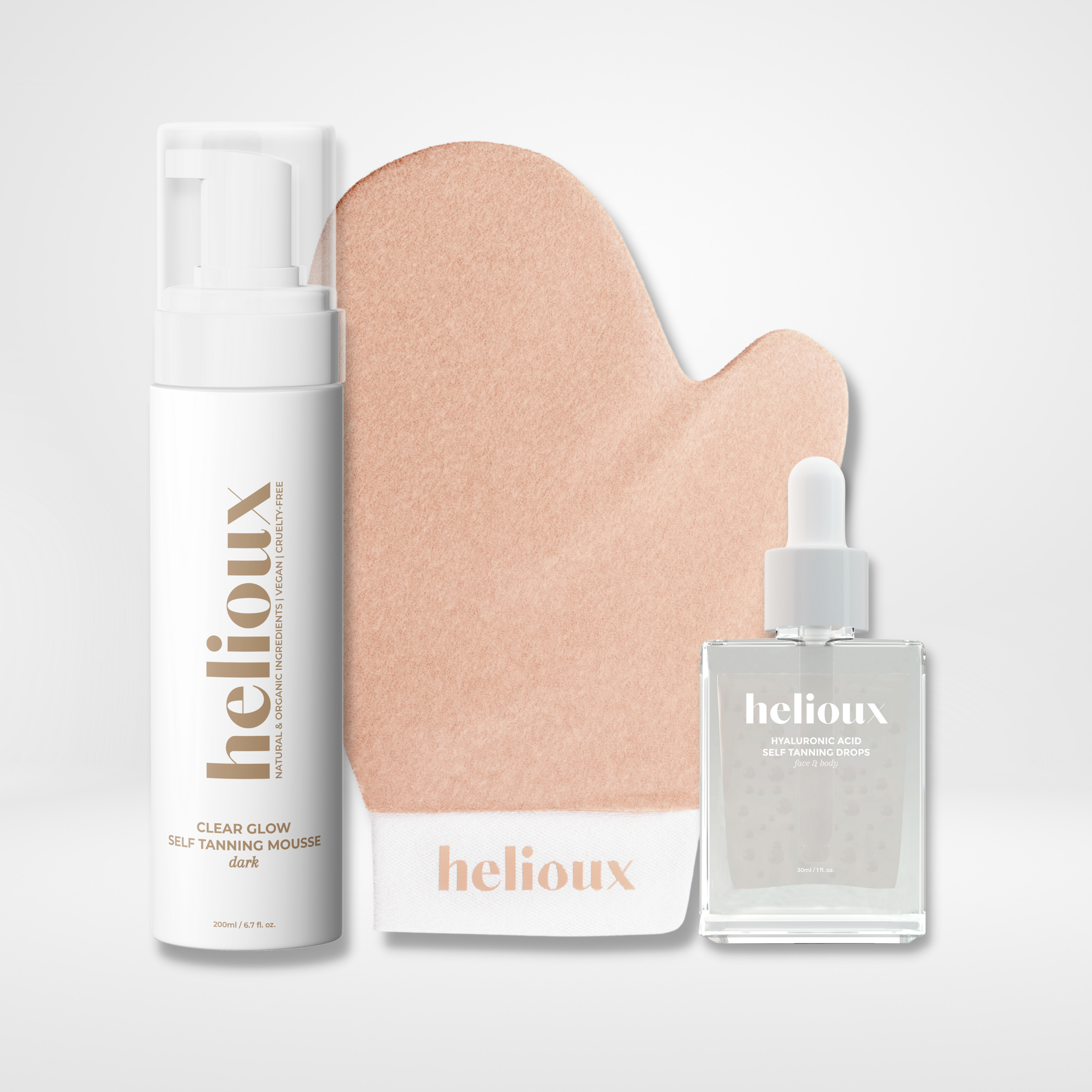 SELF TAN MOUSSE, DROPS & MITT BUNDLE
Sale price

$68.00
Regular price

$84.00
(/)
---
Self Tanning Mousse, Glowing Tan Drops & Velvet Tanning Mitt Bundle.
Bundle up & save! 
This bundle includes: 
1x Self Tanning Mousse in the shade of choice 
1x Glowing Self Tan Drops 
1x Velvet Tanning Mitt 
Self Tanning Mousse
Achieve a flawless, natural looking tan with our tinted self tanning mousse. A lightweight formula with colour guide technology to tailor make the perfect tan for your skin tone. Enriched with nourishing oils, skin-loving & natural ingredients for a dark tan that smooths & hydrates as you glow. This mousse can be used on its own or as a build up.
• No transfer, non-sticky formula
• No orange tones and streak free
• Lightweight mousse formula
• Easy to apply and fast drying
• Suitable for both face and body
For the full ingredient list check the product pages of the individual Self Tanning Mousse.
Directions
Exfoliate and shave 24 hours prior to self tan. Moisturise dry areas such as hands, feet, knees, ankles, and elbows prior to application.
Pump the mousse onto the Helioux Velvet Tanning Mitt and apply in sweeping motions. Leave hands and feet until last and only sweep lightly over.
Your tan will develop in 6-8 hours. Use a moisturizer or our light tanning mousse daily to prolong and maintain your tan.
Glowing Self Tan Drops
The Helioux Glowing Self Tan Drops are specially made to turn your moisturizer, serum, or oil into your own custom self-tanner. Ideal for face and décolleté to create a radiant, golden glow.
Everyone has a different skin tone, so the number of drops you'll want to use to see results will to the product and build color. We recommend mixing your desired number of drops with your face moisturizer and applying them to clean skin. The more drops you use, the deeper your tan will develop!

For the full ingredient list check the product page of the individual Glowing Self Tan Drops.
Directions
Exfoliate your skin 24 hours prior to tanning. Apply the drops on a clean and dry face. Mix the number of drops wanted to your moisturizer, serum, or oil and apply evenly to face and décolletage.
Use 2-3 drops for a radiant result
Use 4-5 drops for a sun-kissed glow
Use 6-8 drops for a golden complexion
Use 10+ drops for a bronzed skin
For the body mix 2-6 drops per body part to your body cream or moisturizer, apply in circular motions using your hands or the Helioux Velvet Tanning Mitt.
Wash your hands after application.
Velvet Tanning Mitt

Ensures an even, blemish-free complexion every time. The Helioux Velvet Self Tanning Mitt is specially designed with a water-resistant barrier on the inside to prevent palms staining. The double-sided soft-touch fabric can be used on both sides.

Velvety soft glove

Double-sided

Suitable for foams and lotions

Smooth, streak-free result
SELF TAN MOUSSE, DROPS & MITT BUNDLE
Sale price

$68.00
Regular price

$84.00
Choose options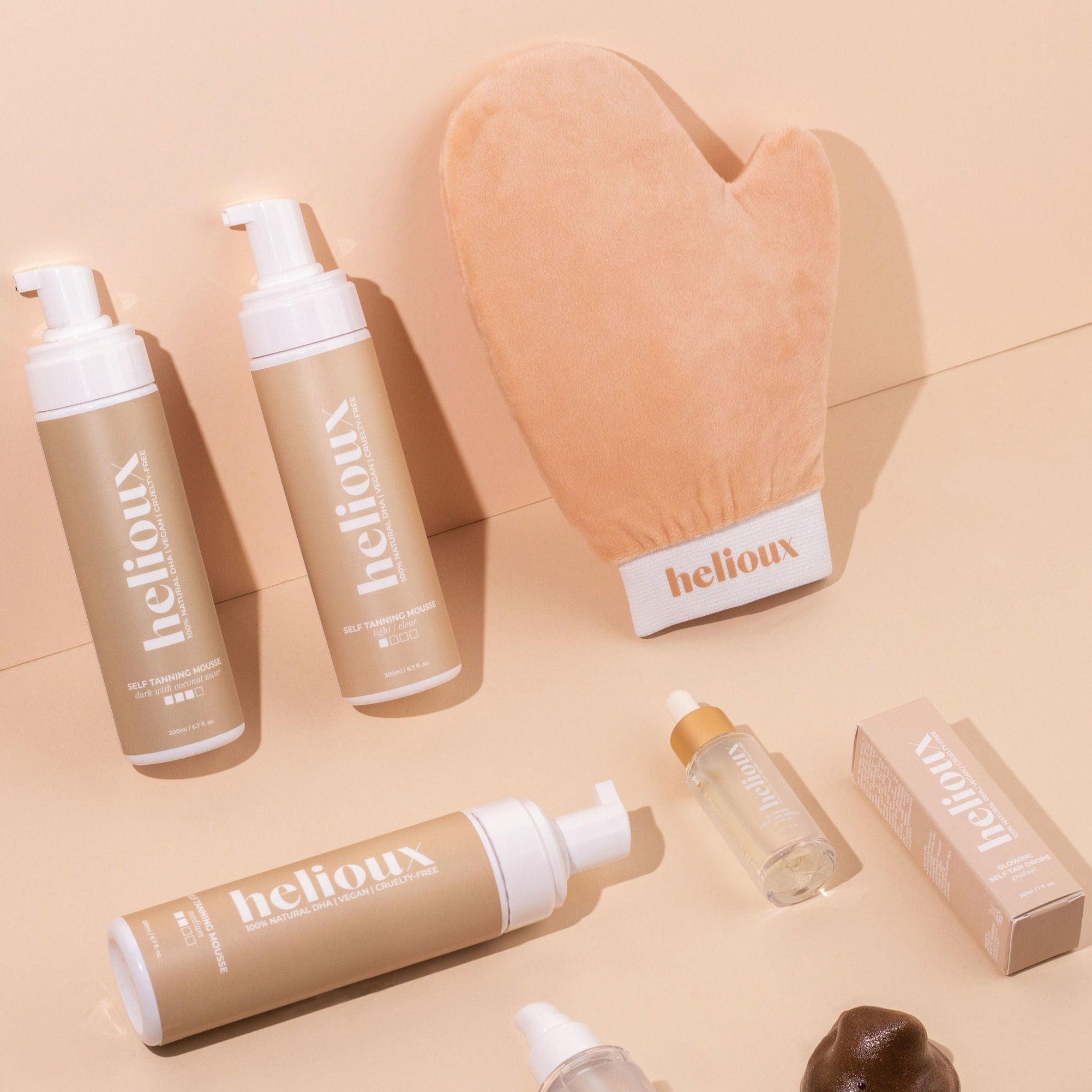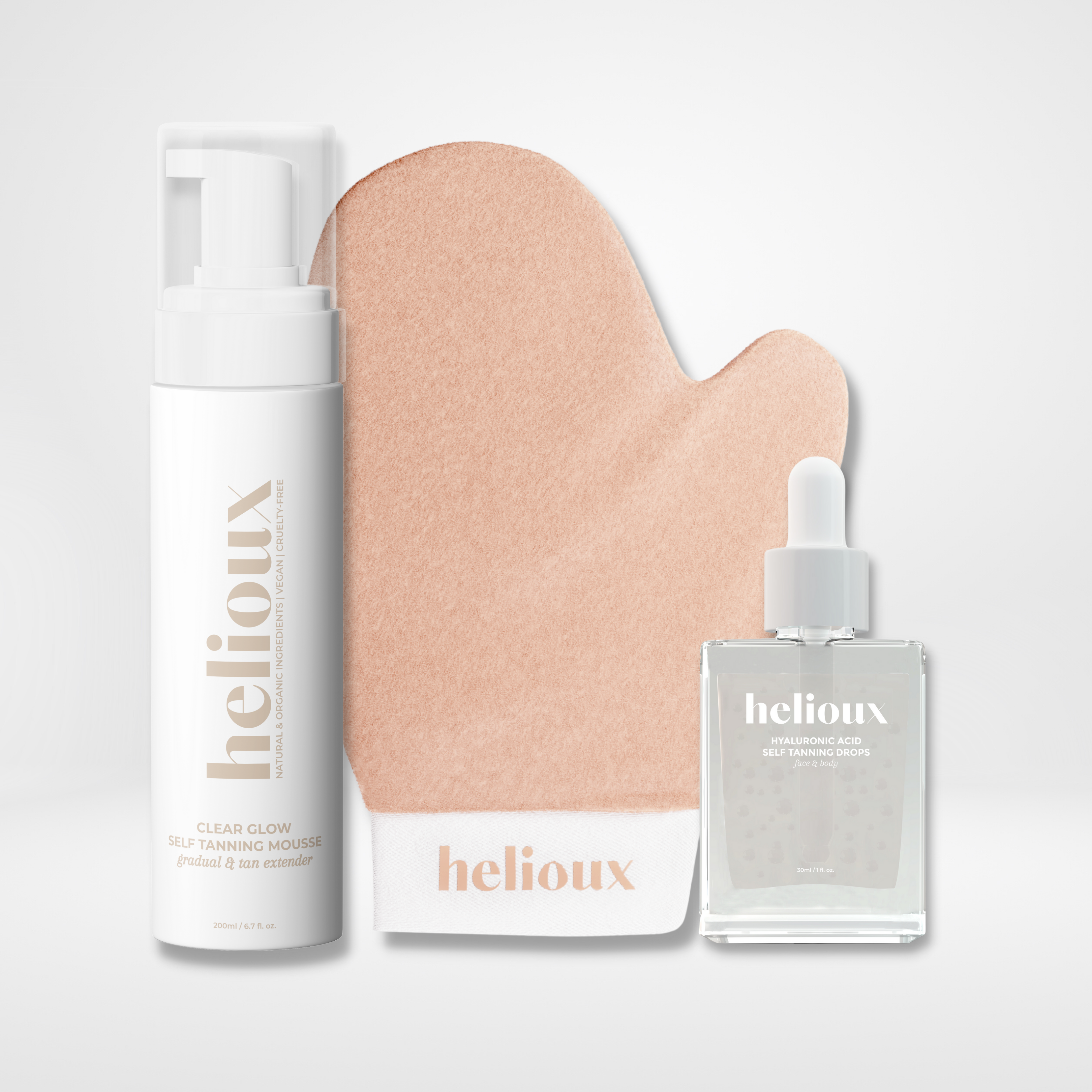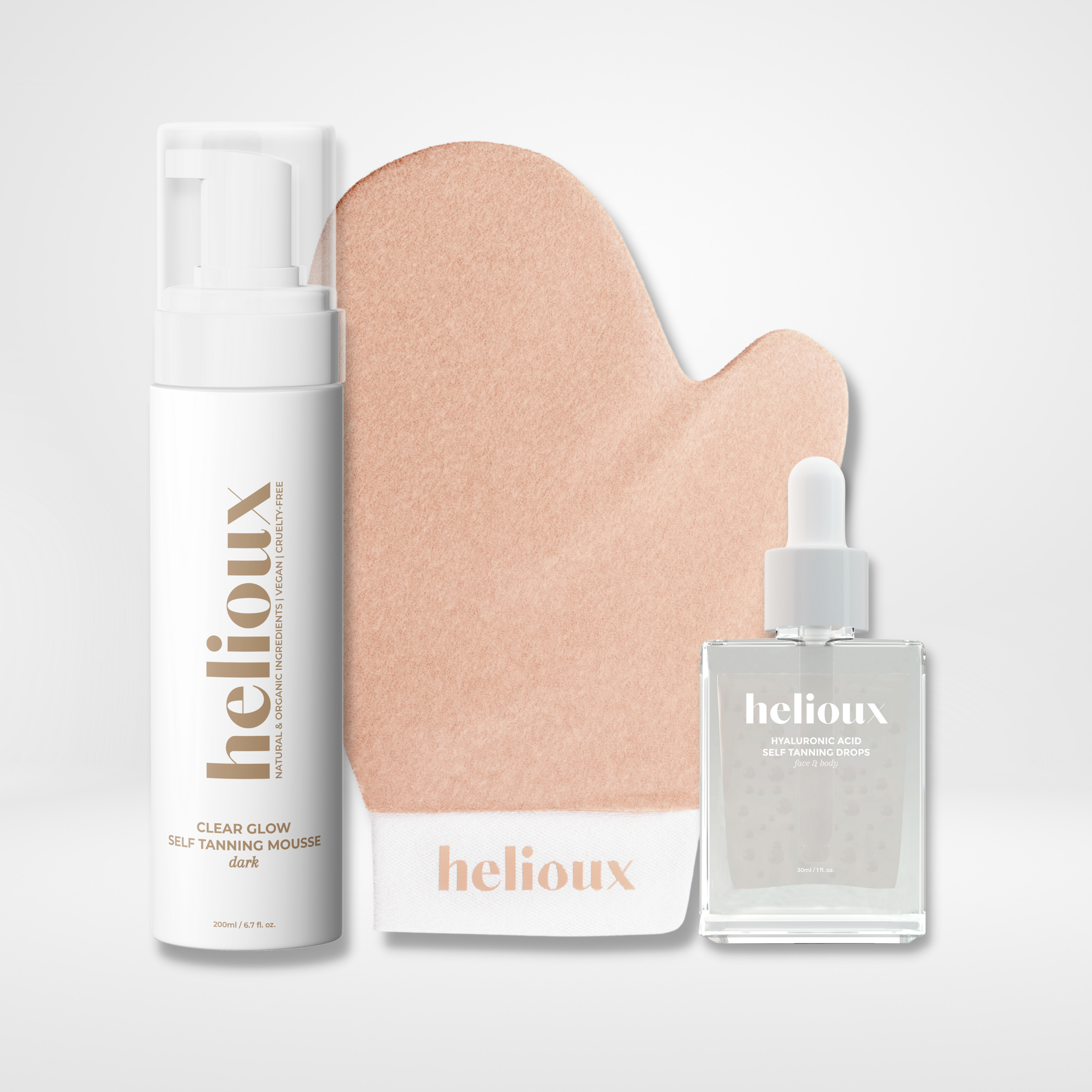 Absolutely adore it!
Ik gebruikte eerst altijd bali body alleen deze gaf af aan zowel kleding als aan bedlakens ook na het douchen. Ook wanneer ik zweette in de zomer merkte ik dat ik de kleur snel kwijt was!
Nu was ik overgestapt op Helioux en heb er geen moment spijt van gehad. De mitt is fijn in gebruik en zorgt dat er geen strepen ontstaan. Dit product trekt ook netjes in op handen en voeten! Ik heb zelf ook nog de scrub handschoen die mijn huid heel zacht maakt. Helioux moet even drogen maar plakt daarna niet!
Kijk wel uit met de self tann druppels, deze met een kwast aanbrengen op de huid want anders heb je hele bruine handen de volgende dag!
Het contact met Helioux verloopt ook super. Mijn verzending was vertraagd door een fout van het post bedrijf maar Helioux ging hier zelf achteraan en stuurde daarna snel mijn producten!
Al met al een top formule met topmensen!
Love it!
The best self tanning, easy in use and a natural look!|