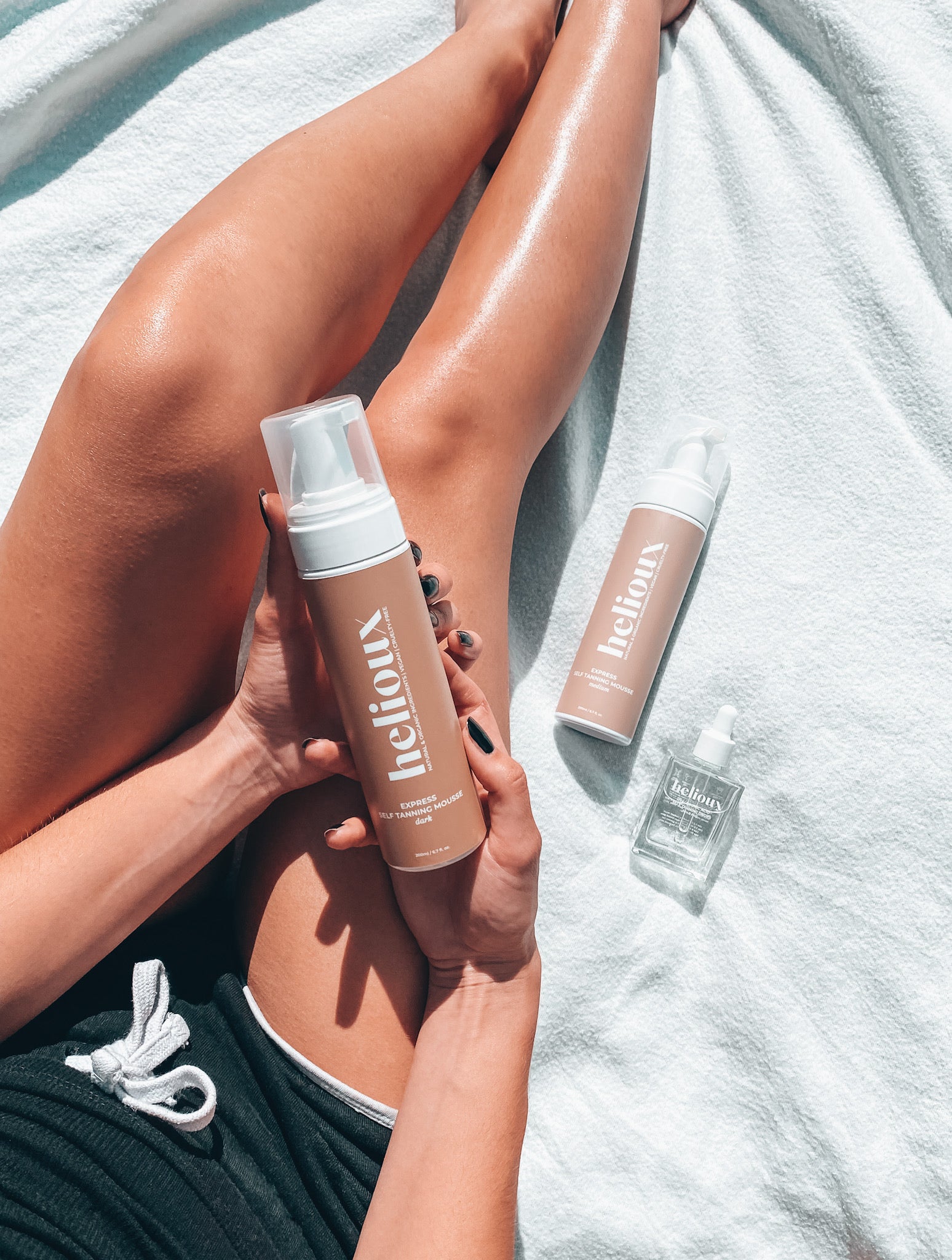 Here are some tips to help you get the perfect sun-kissed look
How to get a nice natural looking tan, without exposure to harming UV rates. Here are some tips to help you get the perfect sun-kissed look:
Exfoliate:
Before applying any tanning product, it's important to exfoliate your skin to remove any dead skin cells. This will ensure that your tan goes on smoothly and evenly, and will help it last longer.

Choose the right product:
There are different lines of self tanners Helioux offers:, self tan drops, express mousse, or transparent mousse. Choose a product that is appropriate for your skin type and the level of tan you want to achieve.

Prep your skin:
Before applying the chosen tanning product, make sure your skin is clean and dry. You can also apply a moisturizer to any areas that tend to be dry, such as your elbows and knees. This will help ensure that the tan goes on evenly.

Apply the product:
For the mousses: pump the product onto the tanning mitt and apply it evenly over your skin. Make sure to blend it in well, and pay extra attention to any areas that tend to be missed, such as your hands, feet, and ankles.
For the tanning drop, you can mix the drops with any moisturiser such as a cream, lotion, serum or oil. Apply the mix onto the desired body part and spread it evenly. Do not forget to wash your hands after application.

Take care of your tan:
Once you have achieved your desired level of tan, it's important to take care of it to help it last longer. Avoid exfoliating your skin or using any harsh products, and be sure to moisturize regularly to keep your skin hydrated.

Practice safe sun habits:
While a tan can look great, it's important to remember that the sun can be harmful to your skin. If you do choose to spend time outside, make sure to wear sunscreen, a hat, and other protective clothing to minimize your risk of sun damage.